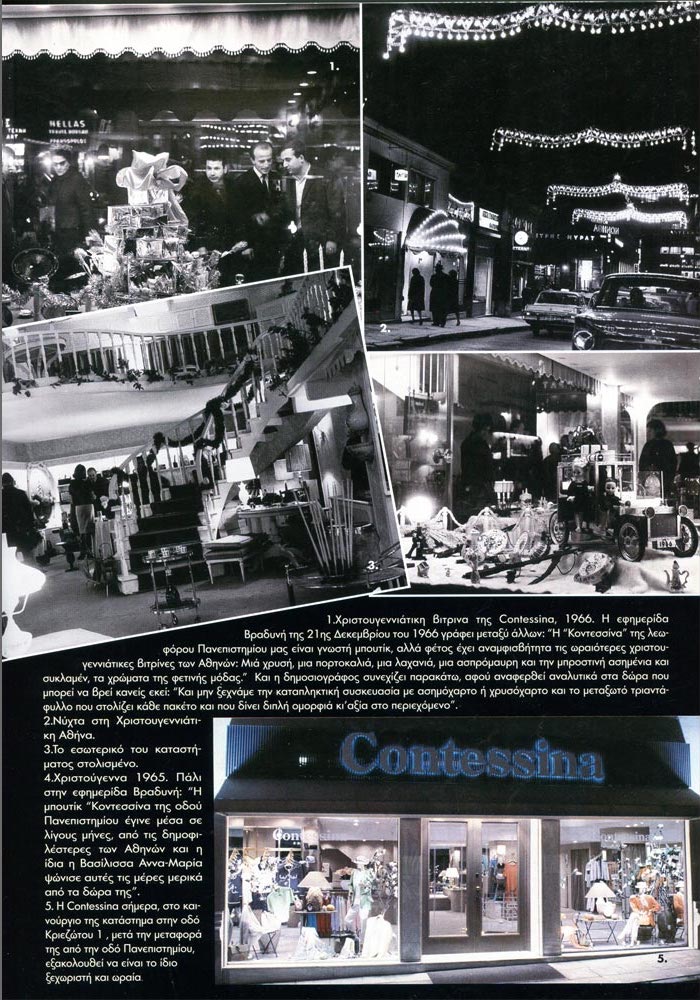 A "Grand" Opening
In 1958, Clara Michalopoulou opened the first Contessina store in Greece. The emporium
imported exclusively in Greece the clothes and accessories of famous foreign fashion houses, such as Emilio Pucci, Moschino, Thierry Mugler, Christian Dior, Pierre Balmain, Givenchy, Guy Laroche, Ginocchetti, and others.
Contessina brand became known for the quality, the sophisticated aesthetics of its merchandise, as well as the warm and personal customer service.
As the Contessina stores grow in popularity, Clara's daughter Elka, her grand daughters Agi and Clara and her sister Nasoula join the business.
Collaboration with Christian Dior
In 1971, Christian Dior entrusted us with the opening of its first exclusive boutique outside of France. Our agreement with Dior included the entire Prêt-à-Porter collection, which we would undertake to manufacture entirely in our atelier in Greece under the high supervision of Dior's qualified personnel.

The First Contessina Collections
In the early 1980s, having the experience and know-how acquired during our collaboration with Dior and wishing to serve the needs of the Greek market better, we began the creation of our collections. Womens clothing and accessories, knitwear as well as home accessories.
Contessina London & Contessina Athens
Today Contessina is in family third generation.
Agi Poulantza-Pamoukoglou, who runs Contessina boutique Athens and Clara Poulantza who is the founder of Contessina London and the designer of the collections